In 1907, A.D. Condo (Everett True's papa) created the first science-fiction comic strip: Mr. Skygack From Mars. This will come as news to comic fans accustomed to believing that Flash Gordon was the first sci-fi comics feature, but Skygack's got Flash beat by more than two decades!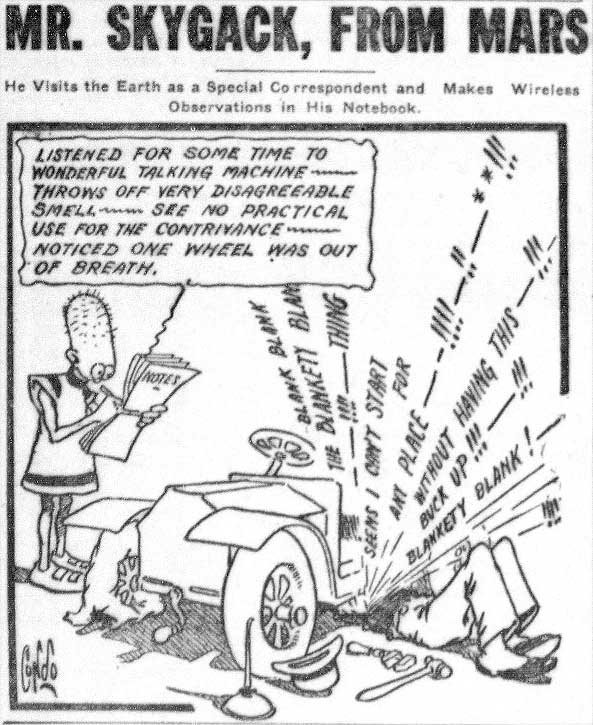 Not a flashy (sorry) space-opera adventure, but a single-panel gag strip, perhaps its narrow focus has allowed it to slip beneath the notice of sci-fi historians. But Mr. Skygack is predicated upon a wonderful science-fiction premise that we've all pondered: what would an alien say if he could see the crazy things we humans do? Skygack observes scenes from daily life with an extraterrestrial's naive perspective and transmits his stories back to Mars using his "wireless notebook". So we've got a speculative premise intended to reflect and criticize social norms, starring an alien from space who uses futuristic devices to investigate Earth. If that doesn't convince you of Skygacks' science-fiction bona-fides, how about this:

That's right! Skygack is not only the first sci-fi comic, he also inspired the first sci-fi comic cosplay! Comic culture is wonderful, creative, obsessive nerds, all the way down!
I've added twenty comics to the Skygack archives today, and I've got more than two hundred left to post. Perhaps we'll keep them coming on Skygack Fridays…